Article:
Police, "Choi Jonghoon, re-investigation...Wrapping up Burning Sun investigation. We'll await the court's final decision."
Source:
OSEN
Seoul Police have provided an update regarding Seungri's arrest warrant.
So far the Police have summoned Seungri for questioning over 15 times on suspicions of prostitution, illegal hidden cameras and alleged collusion with police. On the afternoon of the 30th, the investigation team of the Seoul Metropolitan Police Agency (SMPA) summoned foreign investors and others for questioning regarding Seungri's mediation services. On the same day, Choi Jonghoon was re-summoned by the police on additional charges of r*pe and was questioned until early morning on the 1st.
As for the investigation into Seungri, the police official said,
"The investigation into Seungri and Yoo Inseok for prostitution will be finalized this week. We are considering summoning them further and will decide the direction of their treatment."
When asked if it was possible to request an arrest warrant for Seungri, the police official responded,
"The gravity of the case, risk of flight (running away) and destruction of evidence are matters that will affect issuance of a warrant. It's difficult for us to predict whether an arrest warrant for Seungri will be issued. As we have thoroughly investigated the prostitution allegations and embezzlement, we will apply for an arrest warrant and defer to the court's judgement."
Meanwhile, a female 'A' filed a complaint with the police on March 23rd alleging that she blacked out after drinking alcohol with Jung Joon Young and Choi Jonghoon in March 2016. Voice files and photos of the victim were found in Jung Joon Young's katalk chatroom.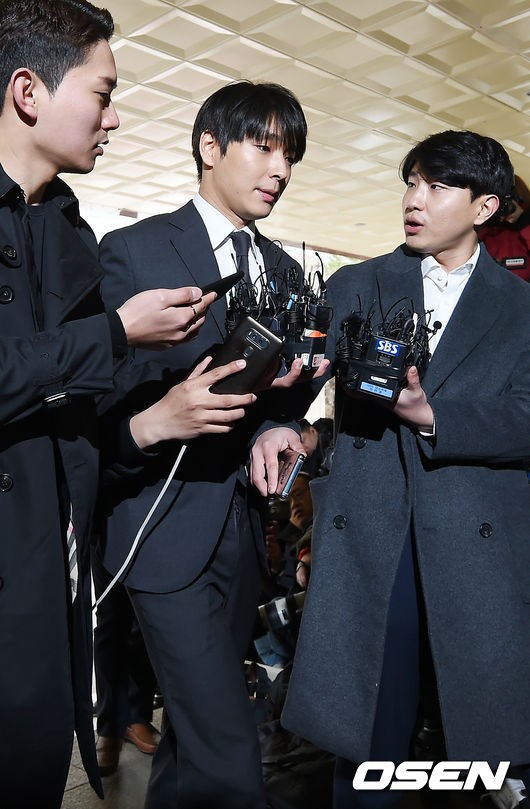 Choi Jonghoon re-summoned for investigation on the 30th